Noelle Minter
Senior Search Associate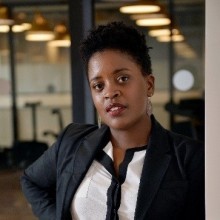 nminter@harrisrand.com
646-385-5562
Noelle has joined the HRL team as a Senior Search Associate.  Noelle is a human resources and workforce development professional who worked most recently at ReServe—a nonprofit organization which matches talented people over 55 years of age with the needs of mission driven organizations and government.  At ReServe, she served in multiple roles within the organization, including Assistant Director and Consultant.
With over a decade of experience, Noelle's areas of expertise include entrepreneurship, nonprofit management, program development, community outreach, market cultivation and equity.  A self-described "people person", she is an expert at matching talent with roles.  She's also a staunch advocate for people and groups that are working to improve the quality of life at the local level, particularly through the arts or any platform that encourages connection through self-expression.  In her spare time, Noelle serves as a volunteer Board Member of the PJS Jazz Society, a nonprofit bringing world-class jazz performances to the community of Mount Vernon.
Noelle is an alumni of the prestigious National Urban Fellows program with a Master's degree in Public Administration from CUNY-Baruch. She also holds a certificate in Aging from the Hunter-Brookdale Center for Healthy Aging & Longevity and a Bachelor's of Arts in Sociology, Business Administration and Urban Studies from Northeastern University.